ISSN 2630-0583 (Print)
ISSN 2630-0656 (Online)
JCST
Journal of Current Science and Technology
http://jcst.rsu.ac.th
Editor's Note
It has been dubbed a gold mine – green in colour, Bamboo. It is an important forest resource 'with wide distribution, fast growth, high ecological and economic value (Wang, 2019).
It all began with discussions at the 1991 International Workshop in Chiang Mai, Thailand. The following year, in Japan, the International Bamboo Association was established to facilitate exchanges of information on the 'environmental, socioeconomic, biological, and cultural aspects of bamboo' (WBO, 2019).
Members include individual bamboo enthusiasts, commercial enterprises, non-profit associations, and institutions all of whom are dedicated to the use of bamboo for the sake of the planet's environment and the world's economies (Akpan, 2019). Read more...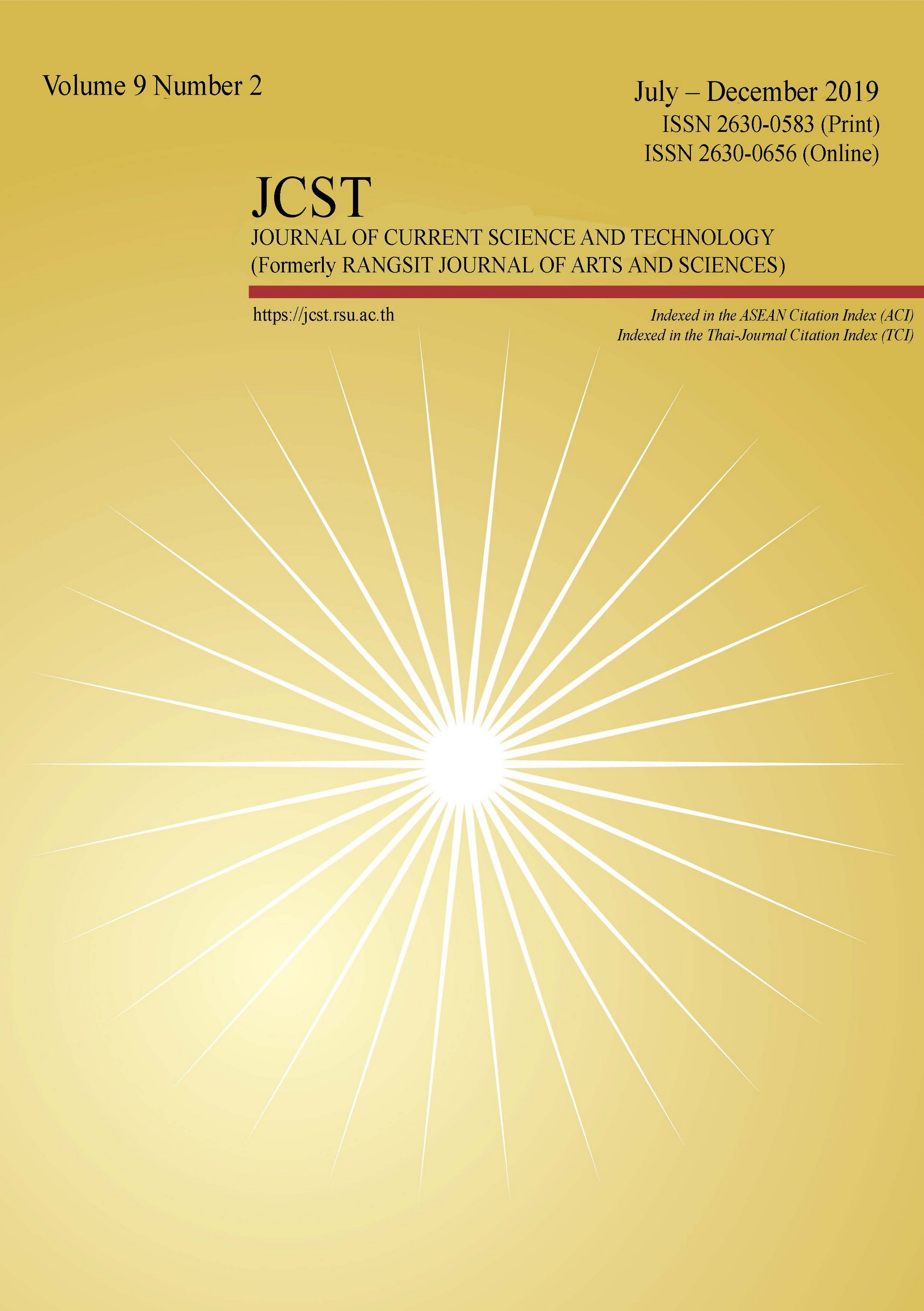 Journal of Current Science and Technology. Vol.9 No.2 , July - December 2019.
Table of Contents
Page
Editor's Note
Bamboo: the green gold mine
Jamie Wallin
i-ii
Research Articles
Concerted hydrogen bond and Hirshfeld surface analysis of Curcumin, Curcuma longa
Saifon A. Kohnhorst and Saowanit Saithong
77-87
Health risk and health status of farmers exposed to chemical pesticides used in agriculture
Pussadee Laor, Vivat Keawdounglek, Anuttara Hongtong, Yanasinee Suma, Nittaya Pasukphun, Tanika Songla, and Wanvisa Saisanan Na Ayudhaya
89-98
Incidence and progression of myopia in secondary school students: Follow-up for 2 years
Patchaphicha Yokkumpol and Watanee Jenchitr
99-105
Numerical simulation of gas-solid flow in a cement precalciner using adaptive mesh refinement
Poncharoen Chanamai and Supasit Rodkwan
107-122
Ocular pathology of hyperopic patients in University Eye Clinic
Watanee Jenchitr and Prasert Padungkiatsakul
123-130
Synthesis and characterization of a new copper(II) coordination polymer with mixed ligands of tetrabromoterephthalic acid and imidazole
Kodchakorn Samakun, Chatphorn Theppitak, Suwadee Jiajaroen, Winya Dungkaew, Taradon Piromchat, and Kittipong Chainok
131-139
The change of crystal field of Gd3+ in natural zircon with heat treatment in oxidizing and reducing atmospheres monitored by ESR spectroscopy
Araya Mungchamnankit and Suwimon Nualpralaksana
141-147
The impact of using smartphones in two different sitting postures on muscle tension and fatigue in Thai young adults: a pilot study
Pongjan Yoopat, Sureemas Kladkunsaeng, Kamolchanok Chotisutra, and Kamiel Vanwonterghem
149-160