ISSN 2630-0583 (Print)
ISSN 2630-0656 (Online)
JCST
Journal of Current Science and Technology
http://jcst.rsu.ac.th
Editor's Note
Welcome to Volume 8, Number 1. Surprise! We have a new title. Our decision to change the title of our journal was not easy, nor was the process of selecting a new title easy either.
And, 'No', we are not numerologists. We aren't superstitious, hoping our journal may have better 'luck'. Of course, this is not to discredit the many valid personal reasons why some people find it necessary to change their identity.
Our editorial team and close friends of the Journal had been discussing the many developments taking place around us and in our region. E-banking, high speed rail transportation, plastic pollution, aging populations, lower fertility rates, increasing child obesity, new addictions including 'on line' gaming – to name some. Read more...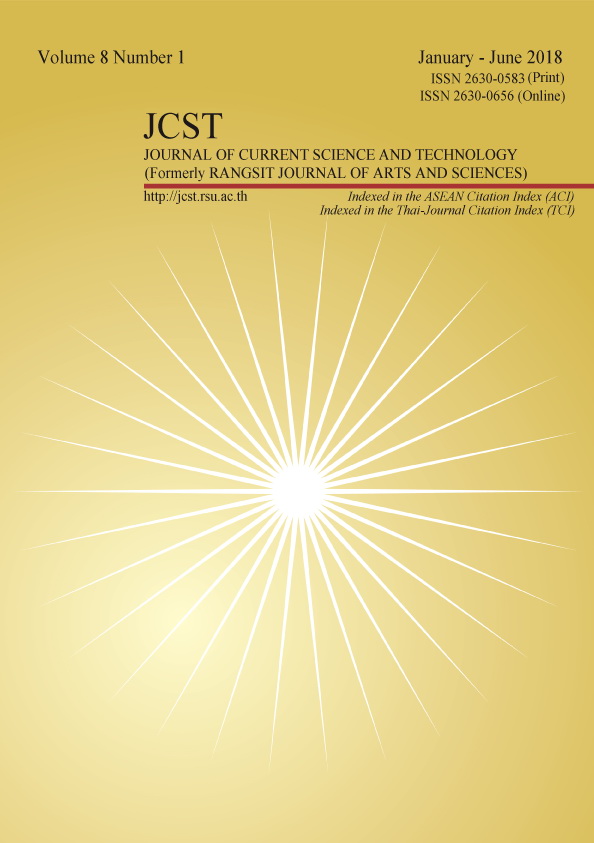 Journal of Current Science and Technology. Vol.8 No.1 , January - June 2018.
Table of Contents
Page
Editor's Note
What's in a Title?
Chatchai Trakulrungsi
i
Research Articles
A new three-dimensional zinc(II)-barium(II) coordination polymer based on trimesic acid and imidazole ligands: synthesis, structure and properties
Natthakorn Phadungsak, Supakorn Boonyuen, Darunee Sertphon, Winya Dungkeaw, Filip Kielar, and Kittipong Chainok
1-9
Antihypertensive effect of MCHF in L-NAME induced hypertensive rats
Tipsuchon Aiamsa-ard, Thidarat Phetmanee, and Thitiya Lukkunaprasit
11-19
Design of house bookkeeping software components based on separation of concerns
Meennapa Rukhiran and Paniti Netinant
21-31
Fuzzy rule-based risk management under ISO/IEC27001:2013 standard for information security
Pichit Boonkrong and Chuleekorn Nuansomsri
33-40
Probiotic properties of Lactobacillus pentosus GP6 isolated from fermented ground pork
Nattakan Dangmanee
41-49
Regeneration of Co3O4–CeO2 catalyst used for odor elimination in an offset-printing factory
Kenichiro Inoue, Shoichi Somekawa, Tsutomu Shinoda, Hiroyuki Fujiwara, and Yoshimasa Kawami
51-55