ISSN 2630-0583 (Print)
ISSN 2630-0656 (Online)
JCST
Journal of Current Science and Technology
http://jcst.rsu.ac.th
Editor's Note
Welcome to Rangsit Journal of Arts and Sciences
In this age of globalization the quality of a university's degree programmes is looming to be of greater importance than in times past-especially from the point of view of students-and, indeed, society.
Rangsit University, as a private university in Thailand, is a case in point. The President, Dr. Arthit Ourairat, is always very clear about the importance of quality. At his annual address to faculty and staff he invites all members to continue their work toward enhancing the quality of course offerings, of teaching, and of students' welfare. His dream is that Rangsit will one day soon be ranked in Asia's top tier universities. Download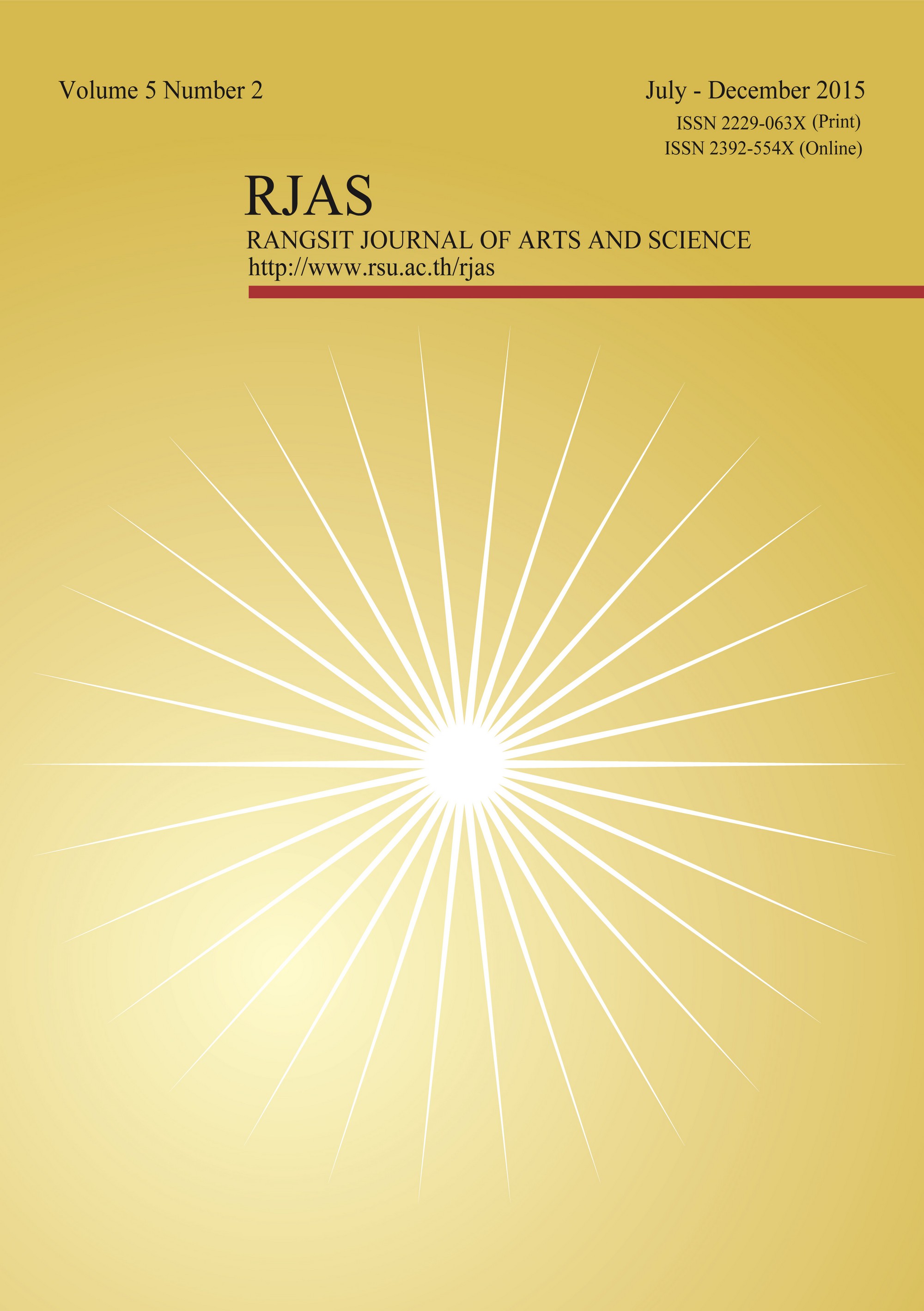 Rangsit Journal of Arts and Sciences. Vol.5 No.2 , July - December 2015.
Table of Contents
Page
Editor's Note
Universities for the 21st Century: meeting the changing needs of a new generation of students
Jamie Wallin
i-iii
Research Articles
Factors impacting on educational motivation among international students in Thailand
Darrin Thomas
117-129
Google and its power in shaping human knowledge
Taweesak Sangkapreecha and Pataraporn Sangkapreecha
131-139
Eupatorium ayapana, a natural source of anti-biofilm, anti-inflammatory and anti-oxidant agents
Sukanlaya Leejae, Teeratad Sudsai, and Chat Krobthong
141-149
Prevalence of Pfcrt 76 and Pfmdr1 86 mutations in Plasmodium falciparum isolates from endemic areas of Thailand by multiplex nested PCR-RFLP
Kanyanan Kritsiriwuthinan and Warunee Ngrenngarmlert
151-162
Scale-up and cultivation of microalgae from brackish water in Thailand in transparent high density polyethylene bags
Sasirin Labua, Nopparat Inprasit, and Wilawan Ngamcharoen
136-173
Robust control of networked control systems with randomly varying time-delays based on adaptive Smith predictor
Xuan-Kien Dang, Van-Thu Nguyen, and Xuan-Phuong Nguyen
175-186
Synchronization of chaotic systems based on an interconnection and damping assignment-passivity-based control
Adirak Kanchanaharuthai, Pinit Ngamsom, and Arsit Boonyaprapasorn
187-197
Review Articles
Mesenchymal stem cell application in dental implantology related bone augmentation procedures: A review of the literature
Ozgur Erdogan and Nuttawut Supachawaroj
199-205